Understanding Disability Insurance
Exclusionary Factors
March 16, 2022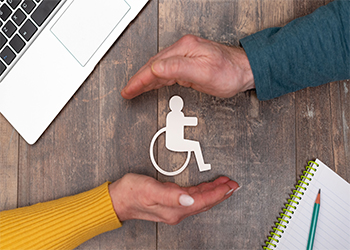 One in every four Americans embarking on their careers in their 20s will experience a period of disability that will prevent them from working for a year or more before they retire. That's a good reason to invest in a long-term disability (LTD) policy. Many companies offer them to employees, and they are also available on the private insurance market.
While LTD policies will pay somewhere between 50 to 80 percent of your normal wages when you're out with a disabling condition, the insurance companies that underwrite the policies are also in the business to make money. For this reason, they invariably include exclusions in their policies, meaning they won't pay under certain circumstances.
Common exclusions include pre-existing conditions, though this exclusion might only last a few months or a year depending on the policy and insurance carrier. Other exclusions might encompass self-inflicted injuries, drug or alcohol addiction, or extraordinary events like war.
If you purchase your LTD policy at work, it will most likely be a one-size-fits-all policy, so you have to read the fine print regarding exclusions. If you buy a policy on your own, you can often opt out of exclusions by paying a higher premium.
If you're filing an LTD claim in or around Florence, Alabama, or in nearby Tuscumbia, Sheffield, or Muscle Shoals, and you're running into obstacles because of an exclusionary clause, contact R Willson Jenkins PC. We have helped countless others with their disability claims, and we will be happy to help you fight for the benefits you paid for and deserve.
What Are Disability Insurance Exclusions?
All long-term disability (LTD) insurance policies contain exclusions and limitations. You should always carefully read the policy you're purchasing. If it's a policy offered at your place of work, often all you will get is a summary of the policy, which may or may not outline the exclusions. You should always ask for a sample policy or at least a listing of exclusions and limitations, whether it's a work-related or private policy.
In all LTD policies, the following three exclusions are commonplace:
Disability arising from an act or accident of war, whether declared or undeclared

Pregnancy, though complications of pregnancy or childbirth may be included

Disability arising during periods of incarceration
Beyond those three exclusions, both group and private disability insurance policies may also exclude:
Self-inflicted injuries or suicide attempts

Disability arising from driving under the influence (DUI)

Disability from participating in a flight as a crew member

Participating in a motor vehicle race as an amateur or professional

Disability resulting from cosmetic treatments

Participating in dangerous activities, such as mountain climbing, parachuting, skydiving, bungee jumping, or in any race, whether on foot, horseback, in a motor vehicle, or a watercraft

Substance abuse or addiction

Anxiety, chronic fatigue syndrome, depression, chronic pain syndrome, stress, or burnout
What About Pre-Existing Conditions?
When you sign up for an LTD policy, you will be asked about any pre-existing conditions. Private policies may thereafter simply exclude pre-existing conditions. For instance, if you had a previous back problem and another back condition develops, your policy will likely not cover it. However, private policies sometimes offer riders or more robust policies to cover specific pre-existing conditions if you pay more premium-wise.
Group policies, like those offered by employers, will often rely on a three-month "look back" period. In other words, they will check for any injuries or illnesses for which you were treated in the previous three months when you make a disability claim. If these are deemed to be pre-existing conditions, the insurer may deny benefits. This look-back provision will generally continue for the first 12 months of your coverage – or another stated time period – from the effective date.
Though most insurers are honest and straightforward, some will abuse the pre-existing condition clause to deny benefits. For instance, they may look through your medical records and discover that a medicine prescribed for your new condition was previously prescribed for another condition and use that as justification to deny your claim.
Definition of Disability and Qualifying for Benefits
Your policy's definition of disability can also pose limitations. LTD policies often contain provisions regarding your "own occupation" and "any occupation."
The policy might pay disability benefits while you are unable to perform the duties of your current – or "own" – occupation, but it might cap the payments at 24 months or for another time frame after which you will have to seek employment in "any occupation" if your disability allows you to do so.
If you do accept work in "any occupation," the insurer may then lower or even cancel your benefit payments. If you don't seek work in "any occupation" without proof that your disability prevents you from doing so, then the insurer will likely cancel your benefits. These occupational clauses are another reason you need to read the fine print.
Get the Experienced Guidance You Need
Whenever you're applying for LTD benefits, you should seek the advice and aid of an experienced and knowledgeable disability attorney. Even with the best insurance companies, the claims process can be complicated with insurer requests for further medical proof and third-party physical evaluations that can delay any benefits. The insurer may also try to pigeonhole your claim into an exclusionary clause to deny it.
If you're seeking long-term disability insurance benefits in or around Florence, Alabama, and neighboring communities, contact R Willson Jenkins PC immediately. We have the experience and resources to help you press your claim and counter insurance companies' stalling and denial tactics.
We also proudly represent claimants all over the Southeastern United States and can help you, regardless of where you live, with your long-term disability claim or appeal.
The information on this website is for general information purposes only. Nothing on this site should be taken as legal advice for any individual case or situation. This information is not intended to create, and receipt or viewing does not constitute an attorney-client relationship.