Pre-Existing Conditions &
Long-Term Disability Claims
April 21, 2022
You pay for long-term disability insurance and count on it to provide benefits should you ever be unable to work. If the insurance company denies your claim when that day comes, it must inform you why. If the denial is based on a pre-existing condition, don't just accept the denial. You have options.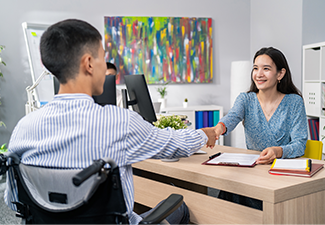 Insurance companies will always attempt to find a way to deny a claim. After all, denying claims to those who have paid premiums, sometimes for years, is how those companies make profits. Your health and well-being are not their concern.
If you have been denied long-term disability benefits, put an attorney on your side who has been helping clients with disability claims for more than 30 years. R Willson Jenkins PC helps people in Florence, Sheffield, Muscle Shoals, and Tuscumbia, Alabama, get the benefits they deserve.
What Qualifies as a Pre-Existing Condition?
A pre-existing condition is a physical or mental health condition that was diagnosed or treated prior to the date your long-term disability insurance went into effect. Asthma, heart disease, arthritis, diabetes, cancer, anxiety, and depression are a few of the common pre-existing conditions insurers use to deny claims.
The effect of a pre-existing condition on long-term disability claims, and the financial support disability coverage can provide, is critical.
How May Pre-Existing Conditions Affect Claims?
Most long-term disability insurance policies bear a significant amount of fine print. Most of that fine print involves long-term disability exclusions that limit coverage based on pre-existing physical or mental health conditions. The insurer can use exclusions to deny your claim outright if you ever assert one.
Your long-term disability policy will include sections on pre-existing conditions and exclusions. There are exclusions other than pre-existing health conditions that could lead to denial of a claim. For example, alcohol or drug use, suicide attempts, or intentional efforts to disable yourself will likely be excluded from coverage.
If you did not disclose a pre-existing condition when you applied for your disability plan, the insurer will probably find out. When you file a claim for disability benefits, the insurer is entitled to review your medical records involved with the long-term disability claim. Moreover, they are entitled to review your medical history prior to the date your plan went into effect.
The period prior to the effective date of your plan is called the "lookback period." The length of time the insurer can access your medical history varies based on the insurer and the plan. Most plans, however, have a lookback period of 90 to 180 days. Also, if you file for long-term disability benefits within 12 months of the effective date of your plan, your claim will probably be denied.
How Can I Appeal a Denial Based
on a Pre-Existing Condition?
You can challenge the insurer's denial of your claim. Do not assume that because the insurer tells you your claim is being denied due to a pre-existing condition that they are justified in doing so. Again, remember that insurance companies are always looking for reasons to deny claims for benefits. That motivation leads to often overly-broad interpretations of what pre-existing conditions are and how your medical history actually relates to the condition that caused your disability.
Don't take "no" for an answer without consulting with a seasoned long-term disability attorney. Your attorney will examine your policy in detail, obtain and review copies of your past and present medical records, and challenge the insurer's denial in every way possible.
Your attorney will also help you obtain evidence that will strengthen your claim for benefits. This evidence might include medical expert testimony, additional testing, specific written medical opinions, and tracking down missing medical records that substantiate your claim and refute the insurer's denial.
The insurer will have a process for administrative reviews of challenged denials for long-term disability benefits. Exhausting the insurer's process does not mean you are done. You can seek justice by filing a federal lawsuit under the Employee Retirement Income Security Act (ERISA). ERISA is designed to protect workers from improper denials of benefits by insurance companies.
Getting Guidance From Experienced Legal Counsel
Any relationship between any type of physical or mental health treatment you have sought in the past is not always causal to your current disability, no matter what the insurance company says. They are not concerned by the fact that without the benefits of your long-term disability plan, you may have virtually no way to support yourself financially. They are solely concerned with their bottom line.
At R Willson Jenkins, PC, your future is all we are concerned about. That's why we have been fighting on behalf of clients denied long-term disability benefits for more than three decades. We know how to stand up to insurers and their attorneys throughout the company's administrative review process and in federal court.
If you live in Florence, Alabama, or any of the surrounding communities, and you are preparing to file a long-term disability claim or have had one denied, don't quit or fight alone. Call R Willson Jenkins PC to schedule a free case consultation.
If you are no longer able to work, you have no time to waste. Call now.