Qualifying for Long-Term Disability
Feb. 3, 2022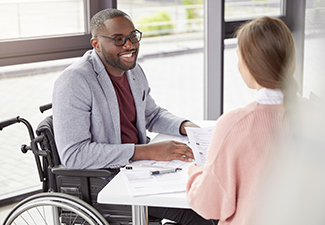 Many employers provide long-term disability insurance coverage in their employee benefits package. Some people have disability coverage included as part of their life insurance coverage they may purchase on their own. This insurance is designed to provide income should illness or injury render you unable to work.
As with any insurance policy, long-term disability insurance companies demand significant proof of disability before they will pay benefits. Moreover, the fine print in the policy contains numerous exceptions, waiting periods, and other requirements they will insist are followed to the letter in order to qualify for benefits.
The claims process can be frustrating and exhausting. It can exacerbate an already painful situation brought on by your illness or injury. If you are considering a claim for long-term disability benefits, you should work with an attorney who knows how these claims work and what you need to prove to be successful.
For more than 30 years, R Willson Jenkins PC has been helping clients navigate the long-term disability application process in Florence, Tuscumbia, Muscle Shoals, Sheffield, and the rest of Alabama. We're ready to help clients all over the Southeastern United States move forward with confidence.
What Does It Take to Qualify for Long-Term Disability?
There are dozens of variables in qualifying for long-term disability. First, talk to human resources about qualifying for long-term disability for a condition that has rendered you totally or partially disabled. They should know what coverages may be available to you and coverage requirements.
If you were injured on the job or became ill because of your job, Workers' Compensation coverage may come into play as well. Workers' Compensation may provide short-term and long-term permanent partial or permanent total disability benefits. Those benefits, as well as Social Security disability benefits, may offset the amount you will receive from the employer's long-term disability plan.
Most employer plans require you to be a full-time employee and define that status. Often, it means you must have worked anywhere from 30 to 35 hours per week or more prior to becoming unable to work. Most employee benefits require full-time employment to qualify.
Coverage under Workers' Compensation—if the illness or injury is work-related—short-term disability benefits, as well as paid sick leave or vacation may be crucial to providing some income during the "elimination period" under most long-term disability policies. The elimination period is the time between the onset of the disability and the start of receiving payments during which you are not qualified to receive long-term disability benefits. You can see how those other benefits may help tide you over until you do qualify, typically a period of three to six months.
If your disability is linked to a pre-existing condition, one diagnosed 90 to 180 days before you qualified for long-term disability coverage from your employer, you may be unable to qualify for benefits for a year. Moreover, there are illnesses and injuries that exclude you from coverage, so check with your human resources professional and an experienced attorney.
How Do I File a Claim for Long-Term Disability Benefits?
The very first step you should take in the long-term disability claims procedure is to hire an experienced disability attorney. Once you provide permission, your attorney will be able to discuss your case with your employer, review the employer's policy, and search for all available coverage you can access immediately and in the long term. As you can see, there are multiple ways you may be able to continue receiving some sort of income while you are unable to work. Your attorney will leave no stone unturned.
Your disability lawyer will help you complete all the forms the insurer, employer, and others, including Social Security, will require. The forms alone can be confusing, even overwhelming. Plus, most forms are extremely time-sensitive. Your attorney will keep you on target and on track.
Of course, your doctor will be required to declare that you are disabled; therefore, your attorney will help you gather documentation of your condition from your healthcare providers. You will also be required to give permission to the insurer to request copies of your medical records.
Statements from co-workers, family, friends, and others regarding your disability will bolster your claim. Your attorney will obtain formal statements from those who can provide relevant information about your medical condition so those statements can be submitted in support of your claim.
What If My Claim Is Denied?
It is not uncommon for claims to be denied for a number of reasons; however, there is an appeals process to address denials. The insurance company must specify the reasons it has denied the claim, and you and your attorney can file an appeal under the Employee Retirement Income Security Act (ERISA).
Filing an appeal is time sensitive. ERISA specifies that the appeal must be filed within 180 days of the denial. Whether you have worked with an attorney up to this point or not, you should call one immediately upon notification of a denial of your claim.
Long-Term Disability Advocacy On Your Side
If you have a medical condition that has rendered you unable to work, fighting for your long-term disability benefits is a battle for your future. Your attorney can protect your interests throughout every step of the process. There is too much riding on the success of your claim to not work with one. If you are considering filing for long-term disability, put R Willson Jenkins PC in your corner. Reach out to us today to get started.
The information on this website is for general information purposes only. Nothing on this site should be taken as legal advice for any individual case or situation. This information is not intended to create, and receipt or viewing does not constitute an attorney-client relationship.